Ondanks dat het vandaag nog niet mijn verjaardag is, wil ik jullie toch alvast de nailart laten zien! Ik ben morgen pas officieel jarig en eigenlijk doe ik er verder niet zoveel speciaals aan. Op naar de nailart!
Well it's not my birthday today, it's tomorrow. But I want to show you my birthday mani today! My birthday is officially tomorrow but I'm not doing anything special for it, just a nice nailart!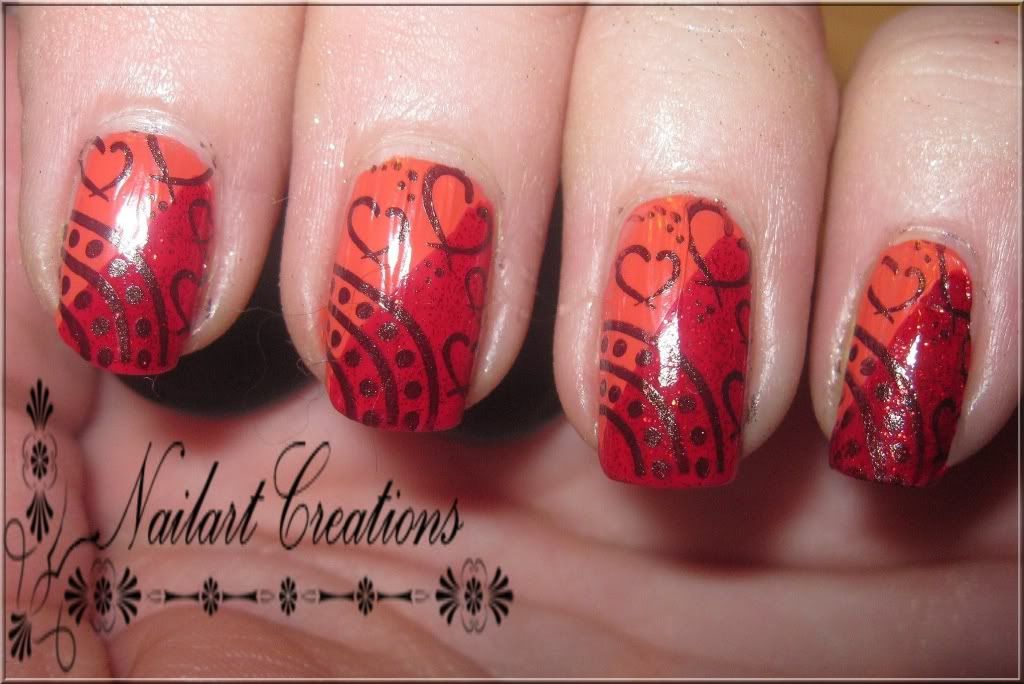 Ik ben begonnen met een koraal kleurig lakje van E.L.F. als basis. Ik heb dit keer gekozen voor een stamping mani, aangezien ik de nailart in 10 minuutjes aangebracht heb en dus eigenlijk niet zoveel tijd had! Toch vind ik het resultaat wel leuk geworden! Het basislakje is E.L.F. - Passion Pink en de stamping plate is M78 van Konad.
I started with a coral like basepolish from E.L.F. I choosed a stamping mani because I made it in just 10 minutes, I didn't have more time! Well I really like the result! The basepolish is E.L.F. - Passion Pink and the stamping plate is M78 from Konad.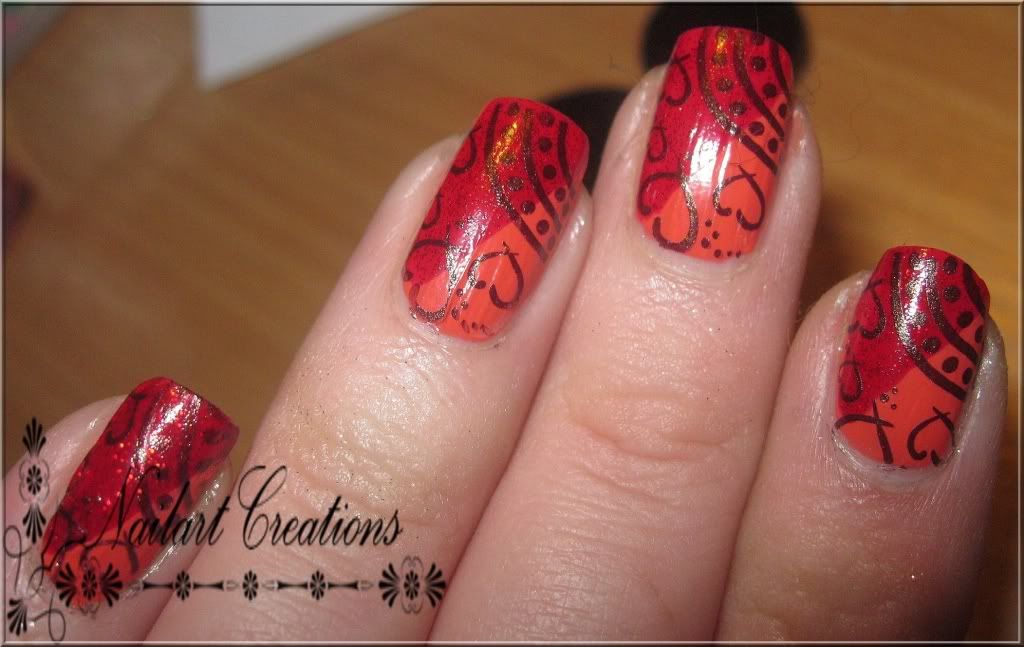 Na het aanbrengen van de basiskleur heb ik de helft van mijn nagel gelakt met China Glaze - Ruby Pumps. Toen alles droog was heb ik de full nail stamp aangebracht met Konad stamping polish - Gold Black. De stempel heeft wat leuke decoratie in de hoeken en verder wat hartjes. Niets speciaals voor een verjaardag dus verder, maar ik vind hem zelf erg leuk!
After applying the basecolour I painted half of my nail with China Glaze - Ruby Pumps. When everything was completely dry I stamped a full nail design with Konad Stamping polish - Gold Black. The stamp has some nice decoration on the edges and some random hearts over the nail. Nothing special for a birthday, but I like it this way!
Vanaf 1 feb begin ik met de 31 day nail challenge, 31 dagen nailart! / From February the first I'm starting with the 31 day nail challenge, 31 days filled with nailart!