Voor dag 5 heb ik gebruik gemaakt van verschillende blauwe kleuren zoals je hierboven al kunt zien. Ik heb gebruik gemaakt van de lakjes: B.O Nailpolish - nr 14, La Femme Beauty - Venus en Born Pretty Store Stampingpolish in Blue. Verder heb ik Konad Imageplate M83 gebruikt.
For day 5 I used multiple blue colours like you can see above. I used: B.O Nailpolish - Nr 14, La Femme Beauty - Venus and Born Pretty Store stamping polish in Blue. Further I used Konad Imageplate M83.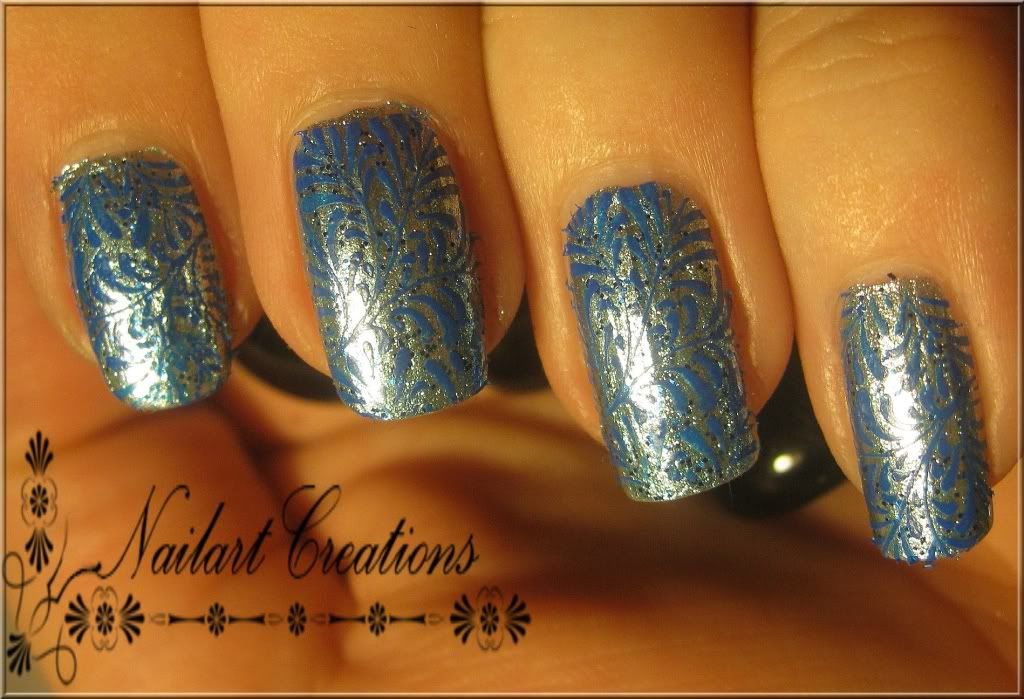 Helaas is de nailart totaal anders geworden dan dat ik in gedachte had. De verschillende kleuren blauw waren eigenlijk vrij slecht te zien over elkaar. Voor een goed beeld van de Nailart zul je even op de foto moeten klikken om hem te vergroten! Ik heb het lakje B.O. Nailpolish - Nr 14 gebruikt als basiskleur.
Unfortunately the nailart turned out way different than I had in mind. The different colours blue weren't very noticable, so you have to click on the picture for a larger image. When you enlarge the pic you can see it better! I started with B.O. Nailpolish - Nr 14 as my base colour.
Na het basislakje heb ik La Femme Beauty - Venus aangebracht, dit is een leuke blauwe glitterlak en deze combinatie was eigenlijk wel erg leuk! Hierna heb ik er met blauwe stempellak de afbeelding van de blaadjes op gestempeld. In real life was de nailart beter te zien, helaas was het licht vrij slecht waardoor de nailart gewoon wat moeilijker te zien is!
After the base colour I added a layer of La Femme Beauty - Venus, this is a blue glitter polish. I really liked the combination of the basecolour and the glitters! After this I stamped with blue stamping polish the image of the full nail leaves. In real life you could see the nailart way better, but unfortunately the light isn't very well on these pictures so it's harder to see!
Wat vinden jullie van de blauwe nailart? / What do you think about this blue nailart?