Vorige week konden jullie bij deze nailart al zien hoe ik full nail waterdecals gebruikte. De waterdecals die ik vandaag heb gebruikt komen ook bij KKCenterHK vandaan, dit keer zijn het geen full nail decals maar gewone waterdecals. Kijk je mee?
Last week I already showed you a nailart where I used the full nail waterdecals from KKCenterHK. This time I used regular waterdecals in the shape of tigers also from KKCenterHK. Click on read more to see the manicure!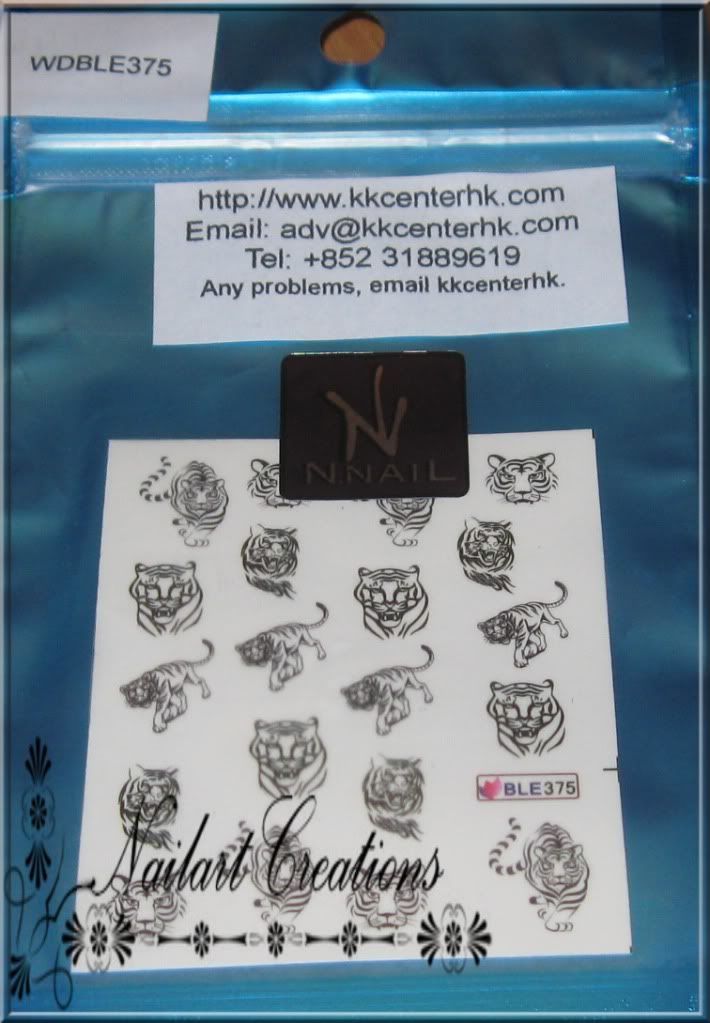 Op bovenstaande foto kun je zien hoe ik de waterdecals binnenkreeg. Mooi verpakt in een luchtdicht zakje die goed stevig is zodat de decals tijdens het verzenden niet stukgaan. In één pakje zitten maar liefst 20 decals, genoeg dus om 2 hele manicures mee te voorzien! Wat ook weer een voordeel is, mocht er eentje stuk gaan heb je altijd een back up! De waterdecals breng je aan met behulp van water, het zijn dus geen stickers!
On above picture you can see how I recieved the waterdecals. They were very good packed in a package so the decals wouldn't break. One package contains 20 decals, that's enough for 2 complete manicures! Another big advantage is that when you ruïn one decal you already have a spare one! You have to apply the waterdecals with water, they aren't stickers!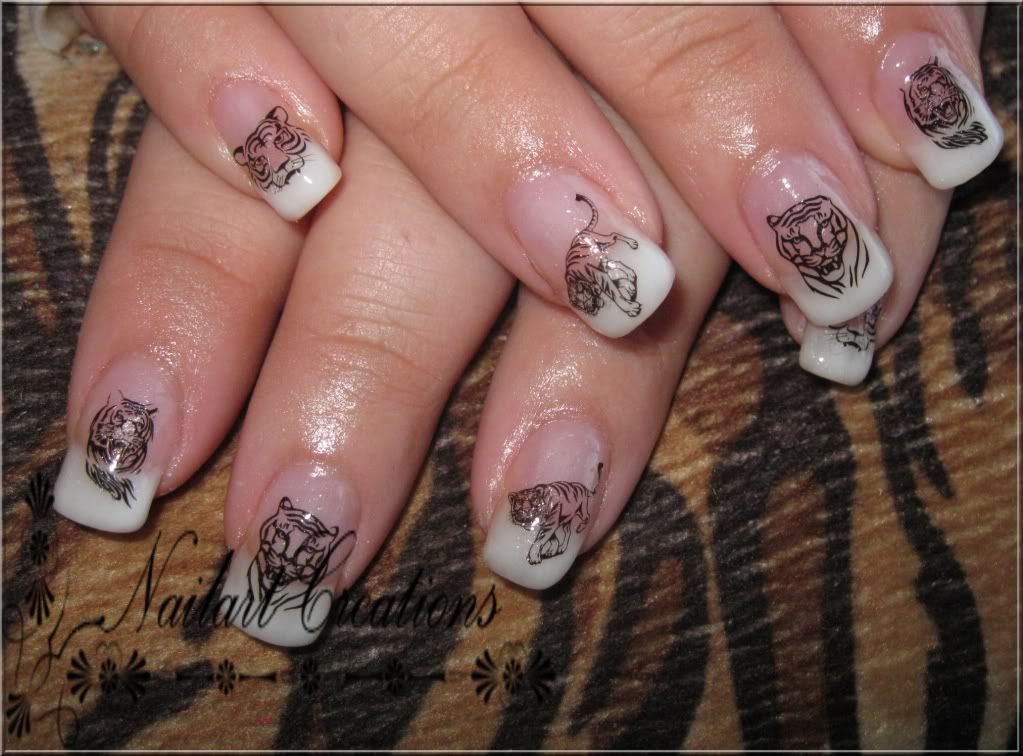 Mijn zus heeft nog steeds haar gelnagels en toen ze de waterdecals van de tijgers zag legde ze er meteen al beslag op, ze wilde ze erg graag op haar nagels. Ik besloot dus meteen maar te testen of de waterdecals naast natuurlijke nagels ook geschikt zijn voor gelnagels. En zoals je ziet, ze blijven perfect zitten! Het pakje waterdecals bevatte 5 verschillende designs met tijgers, op iedere nagel van één hand heeft ze dus andere tijgers zitten.
My sister still has her gelnails, and when she saw the tiger decals she completely fell in love. She definitely wanted them on her nails, so I decided to test out if they're suitable for gelnails too. As you can see they are! Next to natural nails you can use the waterdecals on gelnails too. The package contains 5 different tiger designs so every nail on one hand has a different design.
Voordat ik de decals aanbracht heb ik eerst haar gelnagels opgevuld en opnieuw een witte french manicure gemaakt. Wanneer je decals wilt aanbrengen op gelnagels kan dat natuurlijk maar eerst moet de complete gelnagel afzijn. Normaal gesproken eindig ik met een topgel maar dit keer bracht ik eerst de decals aan. De decals zijn erg dun dus je moet voorzichtig doen maar wanneer ze eenmaal op de nagel zitten plakken ze erg goed! Het aanbrengen van deze decals gaat een stuk gemakkelijker dan de full nail waterdecals! Na het aanbrengen van de decals heb ik een laagje topgel aangebracht, deze zorgt ervoor dat de decals 3 weken prima op hun plek blijven zitten.
Before I added the decals I started with filling up the gelnails and made a new french manicure on her nails. When you want to add waterdecals on your gelnails you have to make sure that the gelnail is completely done. Normally I end up with a topgel but this time I first added the waterdecals. The decals are very thin so you have to be very carefull but when their on the nail they stick very well! The application was way easier then the full nail waterdecals! After adding the decals I ended up with a topgel, this gel makes the waterdecals stay on place for more then 3 weeks!
Je kunt deze waterdecals online bestellen bij KKCenterHK, de waterdecals kosten $2,64 je kunt ze hier bestellen!
You can buy the waterdecals at KKCenterHK, they cost $2,64 for one sheet you can order them here!